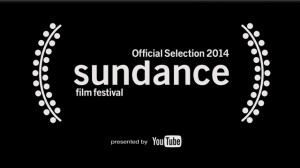 For those of us who couldn't make it out to Park City this week, YouTube is offering viewers a glimpse of the Sundance Film Festival. They're currently streaming 15 of the festival's 66 short films for free. This year's shorts were culled from 8,161 submissions, which Sundance reports is a record. The 15 films available on YouTube span from 83 seconds to just over 18 minutes and showcase a diverse range of talent.
Sundance presented a number of awards for shorts earlier this week and 3 of the winners are among YouTube's 15 films. Gregory Go Boom, starring Michael Cera, as a paraplegic man seeking his independence, took the Short Film Jury Award: US Fiction. Written and Directed by Janicza Bravo. Rat Pack Rat, which follows a Sammy Davis, Jr. impersonator as a job takes an unusual turn, was presented a Short Film Special Jury Award for Unique Vision. Written and Directed by Todd Rohal. And, Burger, which offers glimpses of customers' dramas in a burger joint, was awarded a Short Film Special Jury Award for Direction and Ensemble Acting. Written and Directed by Magnus Mork.
A few additional standouts are worth noting as you explore YouTube's selection. Crime: The Animated Series-Marcus McGhee-MOCAtv, is a hilarious examination of police incompetence as a man's car is stolen and then found. Directed by Alix Lambert and Sam Chou. The Big House, follows a Yemeni boy as he explores an empty mansion and his ideas on freedom. Written and Directed by Musa Syeed. And, Notes on Blindness, provides an intimate portrait of writer and theologian John Hull's inner world after he loses his sight. Directed by Peter Middleton and James Spinney.
Tomorrow, Sundance will present the YouTube Audience Award to the short film with the most views on YouTube. So view, vote, and share your favorite of the 15 in the comments! To view the films click here.